SCONES Plain, Fruit, Brown/Blueberry    1.40 / 1.80 
BROWN BREAD     3.50
SWEET TREATS
Pancake     2
Hazelnut Meringue     3.50
Cereal Bars     1.20
Wellington Square     3 
Chocolate Biscuit Cake     3
Bakewell Slice     3
Coffee Square     3
Crispy Crunch Bars     3
Orange & Poppy Seed Slice     3
Chocolate Speckle Cake     3
Chocolate Brownie*     3 
Rocky Road     3 
Cream & Jam Sponge     15
Jam Sponge      14
Blank Sponge     13
Gluten Free Cream & Jam Sponge     (available on request)
LOAF CAKES (Small / Large)
Gingerbread     3.95 / 7.50
Tea Brack     3.95 / 7.50
Date & Walnut Loaf     3.95 / 7.50 
Almond Madeira     4.20 / 8 
Banana Cake     4.20 / 8
Lemon     4.65 / 8.50
Chocolate & Orange     4.65 / 8.50
Carrot Cake     4.65 / 8.50 
Orange Poppy Seed     4.65 / 8.50
Cherry Cake     4.65 / 8.50
CHEESECAKE     40 
Raspberry / Baileys / Mixed Summer Berries
Mango & Passion Fruit / Lemon / Hazelnut / Oreo
ROULADES     35
Chocolate Roulade with Rum Cream*
Hazelnut Roulade with Fruits of the Forest
Lemon Meringue Roulade*
Meringue Roulade with Fresh Berries*
Almond Meringue Roulade with Chocolate & Chestnut Cream*
CELEBRATION CAKES with Inscription 
Regular Birthday Sponge with Jam & Cream     25
Birthday Sponge with Fresh Strawberries and Cream     30 
Birthday Sponge Cake w/ Fresh Fruit & Cream 8"/10" / 12" Square       40 /55 /65
Gateau Diane* Round / Rectangular Medium / Large 55 /70 /85 
Hazelnut Meringue Gateau* Regular / Large     50 /70 
Chocolate Biscuit Cake Round 8" / Square 8"/10"/12"     35 /60 /80 /100
Vanilla Chocolate Layer Cake Round Small / Square 8"/ 10"/ 12"     35 /55 /65 /85
Vanilla Raspberry Layer Cake Round Small / Square 8″/ 10″/ 12″     35 /55 /65 /85
Lemon Layer Cake Round Small / Square 8"/ 10"/ 12″
35 /55 /65 /85
Black Forest Gateau Round Small / 8" /10"/ Square 12"      35 /50 /65 /80
Rich Chocolate Cake Round Small / Large     35 /60
Coffee Cake Round Small     30 
Coffee & Pecan Gateau Round Small / Large  35 /60 
Gluten-free Chocolate Biscuit Cake Round Small / 8″ Square    40 /70
Sticky Toffee Cake Round Small     35
Carrot Cake Round Small (Caramel Buttercream/Cream Cheese Frosting)     35
DESSERTS
Creamy Chocolate Mousse*     30 
Dark Chocolate Mousse*     30
Lemon Soufflé*     35 
Raspberry Mousse*     35 
Profiteroles (24) & Chocolate Sauce     35
Raspberry & White Chocolate Tart     35 
Chocolate Extravaganza     35
Pavlova Case*     18 
Chocolate Tart (sm/lrg)     30 /45 
Lemon Tart (sm/lrg)     30 /45 
Pear & Almond Tart     45
Banoffi     35 
Tiramisu     30
Fruit Pavlova*     35
Brioche Bread & Butter Pudding     30
Fruit Crumble     30 
– Pear & Raspberry / Rhubarb
Orange Japonaise Gateau     35
Bombe Gateau Diane* (Mini / Regular)     35 /55
SOUP*     3.70 
All our soups are gluten-free, check to see what's fresh today:
Cream of Celery/ Mushroom/ Asparagus/ Broccoli/ Vegetable
Carrot & Coriander / Carrot & Orange / Courgette & Cheddar / Curried Parsnip / French Onion / Leek & Potato / Lentil / Minestrone / Pea & Mint / Roast Pepper & Tomato / Smooth Veg / Squash & Ginger / Sweet Potato, Carrot & Lentil / Tomato & Basil
Chicken Noodle / Chicken & Veg
QUICHES     slice / whole     5 / 40
Quiche Lorraine / Mixed Vegetable Quiche   
Asparagus & Gruyere / Brie & Sundried Tomato
Leek & Roast Pepper / Smoked Salmon & Dill
Broccoli, Tomato & Chicken / Chicken & Broccoli
Goat's Cheese, Pepper & Spinach / Bacon, Peppers & Leeks
VOL au VENTS
Mushroom / Chicken & Sweetcorn / Chicken & Mushroom     3
Crab & Pepper     3.25
SAUSAGE ROLLS (Mini / Regular)      90c / 1.45
CHICKEN
Fruity Chicken Curry*     7.90
Chicken Pie     7.90
Chicken Chasseur     7.90
Chicken a la King      7.90
Chicken Tarragon      7.90 
Chicken in White Wine Sauce with Mushrooms  7.90
Italian Chicken*      7.90 
Chicken Korma*     8.30
Red Thai Chicken Curry*     8.30 
Chicken Paprika*     8.30
Chicken Tikka Masala*     8..30 
Chicken & Broccoli Bake     8.30
Chicken Lasagne     8.30
Chicken & Tarragon Lasagne     8.30
Chicken Normandy*     8.30

PORK
Sweet & Sour Pork     7.90 
Pork a la Crème     7.90 
Pork Provencal*     7.90 
Pork with Apricots & Prunes*     8.30 
Pork Normandy*     8.30
SEAFOOD
Fish Pie     9.99
Seafood Lasagne     9.99
Seafood Crumble     9.99 
Luxury Fish Pie     11.45
LAMB
Moussaka     8.30
Lamb Tagine*     8.30
Lamb Stew*     8.30
BEEF
Bolognaise Sauce*     7.90 
Chilli Con Carne*     7.90
Italian Meatballs     7.90 
Beef Lasagne     7.90 
Shepherd's Pie     7.90
Beef Casserole     7.90 
Beef Goulash     7.90 
Beef Curry*     7.90
Pepperpot Beef*     8.30 
Beef Bourguignon     8.30 
Caribbean Beef*     8.30 
Beef in Guinness     8.30
Steak & Mushroom Pie     8.30
Beef with Ginger in Black Bean Sauce*     8.30
VEGETABLE MAINS & SIDE DISHES
Cauliflower & Broccoli Bake     7.25
Vegetable Lasagne     7.25
Vegetable Curry*     7.25
Vegetable Korma*     7.25
Mediterranean Casserole*     7.25
Vegetable Tagine     7.25
Pasta & Vegetable Bake     7.25
Potato & Vegetable Gratin     7.25
Bean Chilli*     7.25
Aubergine Parmigiana     7.90
Spinach & Cream Cheese Lasagne     7.90  
Stuffed Peppers  (1 portion)     4.50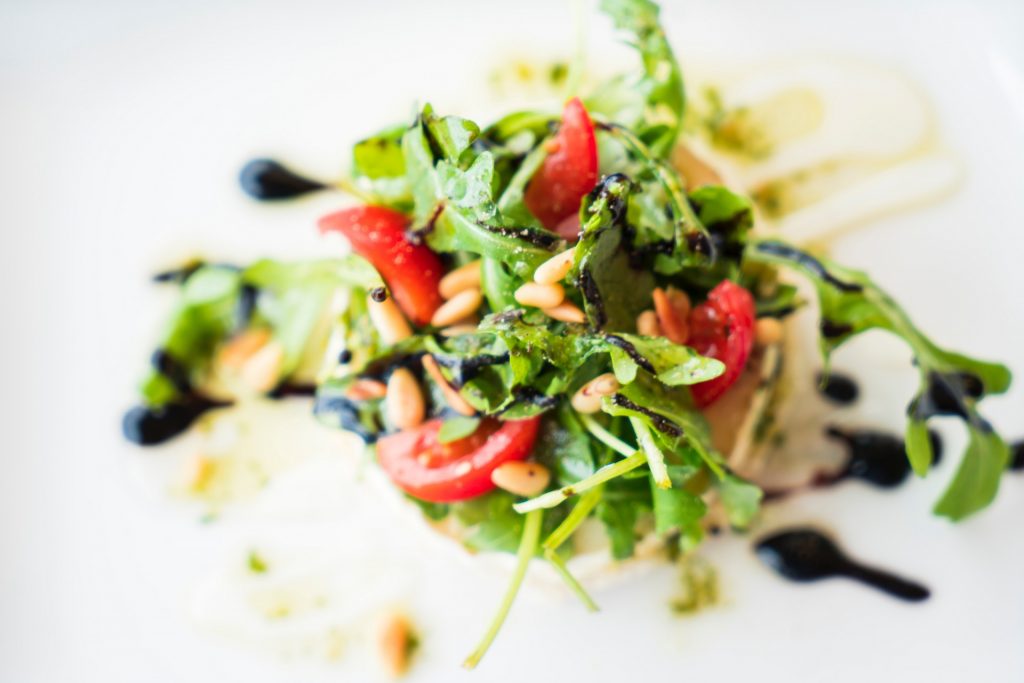 Mashed Potatoes*     5.25
Dauphinoise Potatoes*     5.25
Rocket & Parmesan Mash*     5.25
Cheesy Onion Mash*     5.25
Spring Onion Mash*     5.25
Creamy Garlic Mash*     5.25
Basil & Olive Mash*     5.25
Carrot & Parsnip Purée     5.75
Baked Swede     5.75
Creamed Spinach*     5.50 
Ratatouille*     5.50
Red Cabbage*     5.50 
Rice Pilaff*     4.20
ALL ITEMS MARKED WITH AN ASTERISK (*) ARE WHEAT AND GLUTEN-FREE. Please talk to us about dietary requirements – many of our dishes and celebration cakes can be made gluten-free and some of our vegetarian dishes are also dairy-free or vegan.
Please note that due to capacity, we cannot have all of the above available fresh every day. We aim to have the most popular dishes available as often as possible and rotate availability of the other dishes. If you want a specific dish, please order in advance to avoid disappointment. Celebration cakes must be ordered in advance. You can also give us a ring to check what we have available fresh, any day from 10am- 6pm (01 288 0824).
All prices correct as of 3 October 2022. Depending on the fluctuating price of fresh produce, some prices may change.